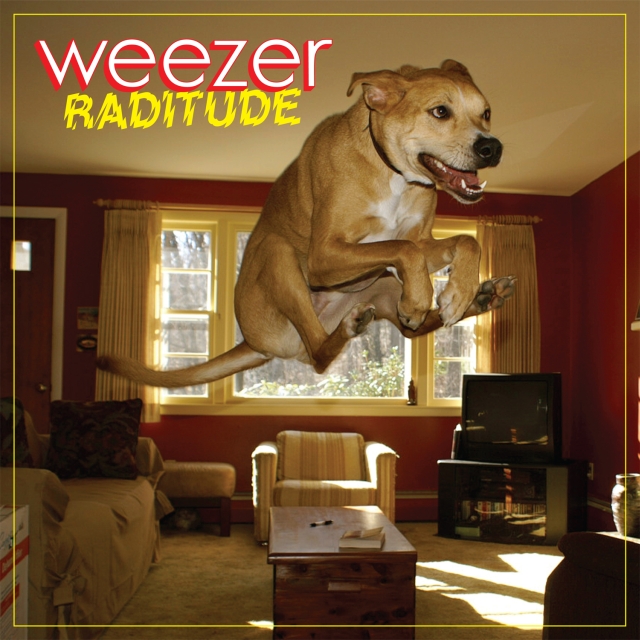 Artist:
Weezer

Album:
Raditude
Released:
Nov. 3, 2009 on DCG Records
Weezer's brand new album is certainly a unique contribution to the music industry and many argue that it is simply a horrendous piece of work. However, I feel that the lens that you view
Raditude
from will completely alter the way you feel about the piece.
1. The first way you can view the CD is from a view that hasn't been influenced by any of Weezer's previous works. By listening to the album from this very serious point of view independent of Weezer's previous success, one will listen to this album and wonder "why?" There is zero continuity in the sequence of songs, the songs are mediocre at best, and the songs are musically predictable. THEN, when you find out that Rivers Cuomo is 39 years old and Patrick Wilson is 40 you automatically get a visual of a 55 year old woman walking through a mall sporting leopard prints, tight jeans, and showing too much midriff – middle aged people trying to act hip is a major turn off. I don't want Rivers saying "I'm Your Daddy" or singing that "The Girl Got Hot" because it will simply make you feel as awkward as an under developed kid in Sex Ed Class. All of these factors would give the album a C.
2. The next view you can have when looking at the album is looking at it from a serious perspective again, but this time with the knowledge of Weezer's past music. If you are looking for another Weezer album, then
Raditude
should meet your expectations. The songs are catchy, typical and melodious. With the exception of a few key tracks on the album, the CD would meet your expectation. Songs like "Can't Stop Partying" and "Love is the Answer" however will simply confuse you. "Can't Stop Partying" is a sad attempt to try and make it on the iTunes top 10 and "Love is the Answer" must have been an outtake from the Mike Myers move The Love Guru. The songs however do provide the classic unimpressive Rivers guitar solos and predictable vocal harmonies. For this view, I give the album a solid B-.
3. The final lens that one could view this CD, my personal favorite, is to look at it as a joke. Obviously, some of the songs are hilarious! "Can't Stop Partying" is obviously a mockery of the Hip Hop Industry and that one went right over Lil Wayne's head. Just like Taylor Swift mocked the industry with T-pain, Weezer is doing the same thing. Lyrics like, "Your mom cooked meat loaf even though I don't eat meat" is certainly evidence that this album is meant to be a joke. In this context, I certainly give the album an A+.
--
Alexander Podkul
Nothin' But a GOD Thang
, Tuesdays 2-4 p.m.